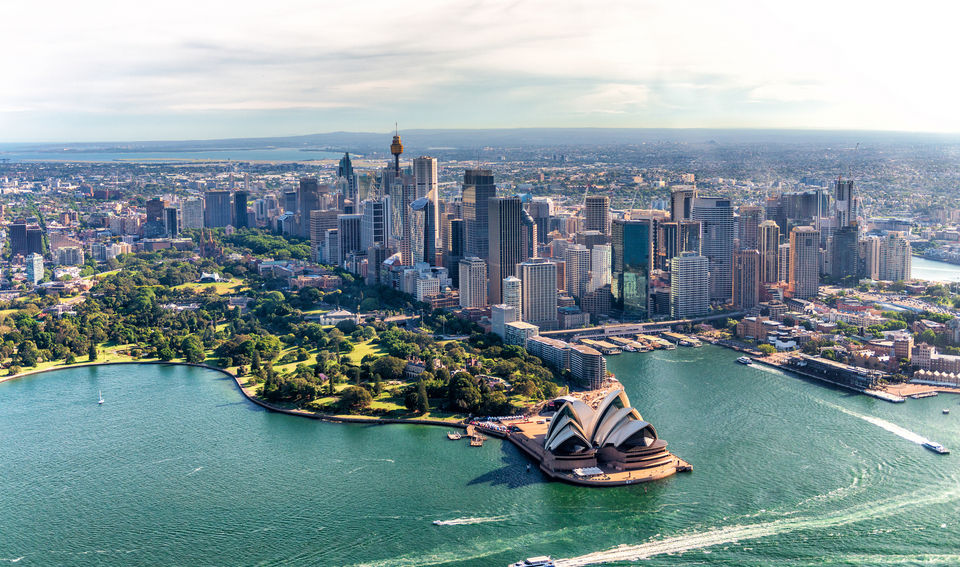 19 Fun Things To Do In Sydney - Tick Off Your Bucket List!
It is the most visited city in Australia, so you know there must be plenty of fun things to do in Sydney!
Nicknamed the Emerald City, Sydney is best known for its incredible beaches, famous landmarks like the Opera building and vibrant city life. With more than 4 million inhabitants, the sunny capital of New South Wales is also the most populous Australian city.
Whether you want to spend a day exploring the city, discovering the food scene or catching waves on one of Sydney's beaches, I've got you covered.
There's no shortage of fun activities in Sydney to keep you busy, so let's jump right in!
1. Try surfing at the iconic Bondi beach
Surfing at Bondi beach is one of the most stereotypically Australian things you can do in Sydney. The iconic Bondi beach is world famous for its surfing conditions. It is a great place to learn how to surf, with plenty of classes available.
Regardless of if you're a beginner or a pro surfer, surfing is one of the most fun things to do in Sydney.
2. Go on a Bondi to Coogee Coastal Walk
If you made it all the way to Bondi, but surfing and swimming just don't appeal to you, you have to go on the famous coastal walk from Bondi to Coogee.
It is one of the most popular outdoor activities in Sydney. This 6km walk will take 2-3 hours to complete, and it is suitable for most ages and fitness levels. You'll walk past some incredible viewpoints along this picturesque wooden boardwalk.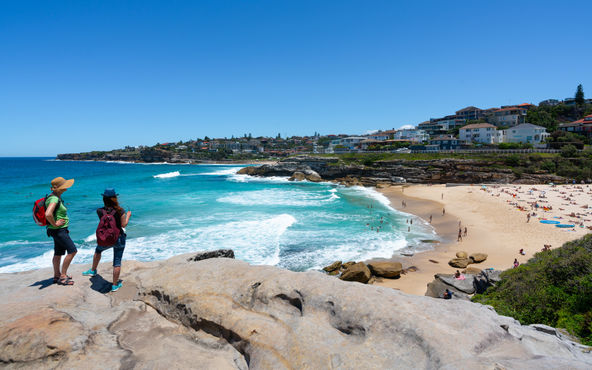 3. Join the Sydney True Crime Tour
True crime is one of the most popular podcasts and Netflix documentary genres, so how about learning more about the dark side of Sydney?
On this unique tour, you'll get to visit famous crime scenes and hear the stories about real crimes that happened on the streets you unassumingly walked around just hours ago.
4. Swim in the MacCallum Pool
MacCallum Pool is not just a regular pool. This seawater pool dates back to the early 20th century when it was nothing more than a rock swimming hole locals formed to have a safe swimming area.
The pool was restored in 1920 giving it the look it has today, and nowadays it is a public swimming pool with one of the best views of the Sydney Harbour.
The pool is always open, except for cleaning times, and is completely free to visit!
5. Feed the quokkas in Featherdale Wildlife Park
There aren't many animals as adorable as the smiley Australian quokkas. In Featherdale Wildlife Park, you get to see and get close to the animals like kangaroos, wombats and many more. It is a great family activity in Sydney!
You have to pay extra to feed the animals, but they are so cute and friendly that it is well worth it. If you are interested in feeding them, consider visiting earlier in the day while the animals are still interested in the food!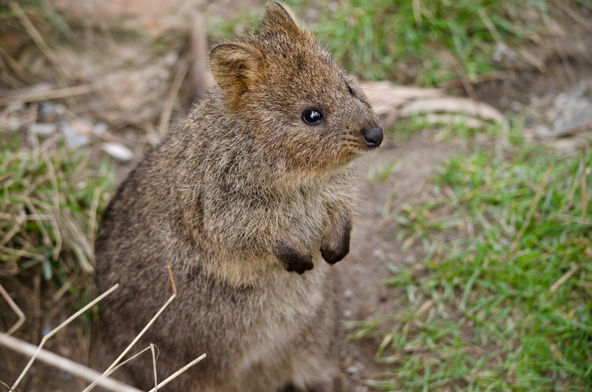 6. Join a free walking tour
Free walking tours are a great way to get acquainted with the city, get a grasp of your surroundings and learn something new about Sydney.
Friendly and knowledgeable local guides lead the tours, so it is an awesome opportunity to ask everything you want to know about the city and visit some of the hidden gems.
While technically free, it is highly recommended to tip your guide if you enjoyed the tour!
7. Stroll the Skywalk on the Sydney Tower
If you're not afraid of heights, the best view of Sydney must be the view from the Sydney Tower Skywalk. You get to spend an hour on the top of Sydney's tallest building at 268m above the ground.
For those who like to stay on the safe side, the observation deck offers an incredible panoramic view of the city as well, without the inevitable adrenaline rush of the Skywalk.
8. Go on a hike in the Blue Mountains
The Blue Mountains are located west of Sydney and are a popular hiking hotspot for Sydney residents. It gets its name from lush eucalyptus forests, giving the mountains a slight blue-ish hue. Outdoor enthusiasts will love discovering the numerous trails and hidden waterfalls.
However, you don't need to be a hiker to enjoy your time in the Blue Mountains. The Blue Mountains Skyway is a glass-bottom cable car that takes you from one to the other side of the mountain while you enjoy a spectacular view over the forest.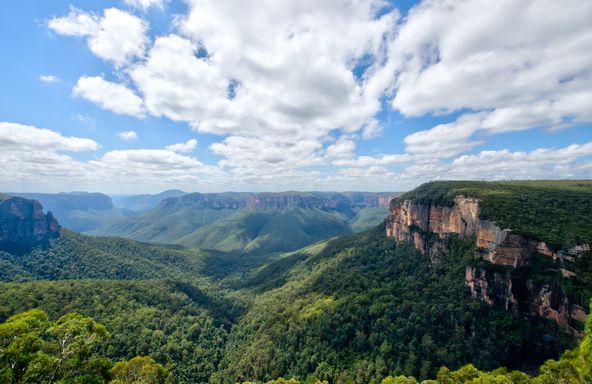 9. Visit Cockatoo Island
Cockatoo Island is a UNESCO World Heritage Site, and at some point in time, it used to be a shipyard and a prison for the worst convicts. Many of the island's colonial buildings are preserved in their original state, making it a fascinating step back into the past.
Today, it is also a popular spot for waterfront camping and passing a night in complete tranquillity.
10. See a drag show
Sydney is considered the gay capital of Australia, so why not take the opportunity to learn more about this side of the city?
Sydney Gay and Lesbian Mardi Gras is one of the biggest events in Sydney in general, so if your dates align, it is the perfect time to let loose.
11. Kayak in the Sydney Harbour
A unique way to see Sydney Harbour is actually from the sea! Join the Sydney Harbour kayak tour to see Sydney's highlights and learn more about the city, as the guides will share interesting facts about Sydney's history.
The view from the kayak is especially spectacular for sunrise over the Harbor bridge or sunset!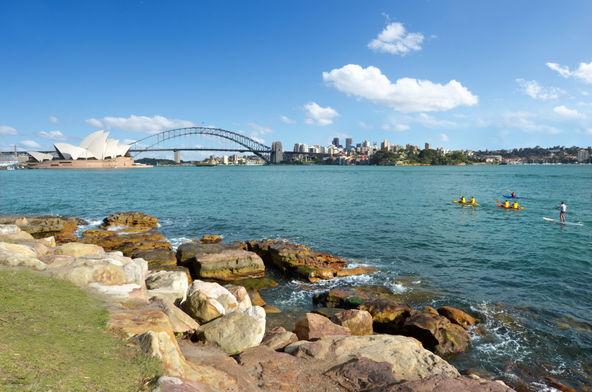 12. Go for a 10K run on Manly to Spit Bridge Coastal Walk
Of course, running this scenic 10km walk is not necessary, but if you're looking for a good place to do some exercise in Sydney, it doesn't get much better than the Manly to Spit Bridge trail. The trail includes quite a few steps and stairs, so it's great for getting the heart pumping!
The path is surrounded by nature. You'll also find some aboriginal carvings along the way and finish with an amazing view of the Harbor Bridge.
13. Observe the night sky at Sydney Observatory
Observatory Hill park is one of the most popular spots to watch the sunset in Sydney but stay there after nightfall and observe the stars and planets from the Sydney Observatory. It is one of the best things to do in Sydney at night!
14. Skydive over Sydney
For those seeking adrenaline activities in Sydney, nothing tops tandem skydiving. You might get nervous as you fly over the city in a small aeroplane, but an instructor will be there to guide you.
It is one of a kind experience!
15. See the whale migration
Sydney is a great place to watch whale migration if you visit at the right time. Humpback whales migrate through Sydney from May to November, but you have the best chance of seeing them in late June.
You can join a whale-watching boat tour or just observe the whales from the coastline. Popular Bondi beach is one of the best places to spot whales around Sydney.
16. Have fun in Sydney Luna Park
Luna Park Sydney is a heritage-listed amusement park and one of the most recognizable attractions in the city. The large smiling face entrance might look familiar if you have visited Melbourne before, as it was the inspiration behind the Sydney Luna Park.
It is free to enter and roam the park, but you have to pay for individual rides. It is recommended that you book tickets online and save yourself from waiting in long lines in front of the rides.
17. Join a pub crawl
If discovering Sydney's nightlife by yourself sounds too intimidating, you can join a pub crawl! Sydney's nightlife is one of the best in the country, with countless rooftop bars, pubs and nightclubs to choose from.
Depending on which pub crawl you choose, you can discover Sydney's top bars and hidden pubs you wouldn't have known existed on your own!
18. Go on a helicopter ride
I know I said that Sydney Tower Skywalk has the best view of the city, but a helicopter ride over Sydney takes the panoramic view to a whole other level.
It is a fantastic way to see the city from another perspective and will definitely be a highlight of your Sydney trip.
19. Stroll the Royal Botanic Garden
Sydney's Botanical Garden is a must-see spot for every nature lover. It is free to visit, and you can spend the whole day just strolling through this large garden and learning about different plants. The theme of the park changes twice a year, with creative exhibitions each time.
Summary: 19 Fun Things To Do In Sydney
As you can see, Sydney has an abundance of fun activities to try out!
Even though Sydney is the most expensive Australian city, there are plenty of free things to do here, so you can have fun in the city even if you're on a budget.
Regardless of if you're an outdoors lover or a city person, there's something for everyone in Sydney.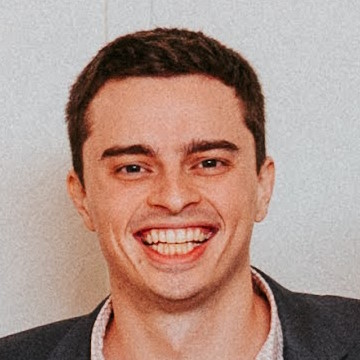 Louis
Louis is passionate about bringing people together through events and parties. He is a strong believer in the importance of social activities and parties in developing and strengthening relationships.